Hearing Loss as a disability does not draw much attention. It is as silent as the world in which they live. Reliable figures state that 6.3% or 8.2 crores of our population suffer from Severe to Profound loss. Hearing Loss from birth affects not only the education but also the emotional and social behaviour of the individual.
But there are people made of stronger stuff who defy the stereotype and prompts us to ask "Is Hearing Loss a Disability? Not really!" especially in the case of these 2 wonderful people from the State of Kerala who refused to consider Hearing Loss a disability.
Saji Thomas
"I can't hear or talk, but I could build an aircraft and fly it" these are the words Saji Thomas wrote on a piece of paper. Not a small feat, especially coming from a person who is Speech and Hearing impaired from birth and has not studied beyond class 7. Achievers like Saji Thomas once again bring up the question, is Hearing Loss a disability? Not really! Not for people with a mission and the determination to go to any lengths to achieve their goals.
Who is Saji Thomas?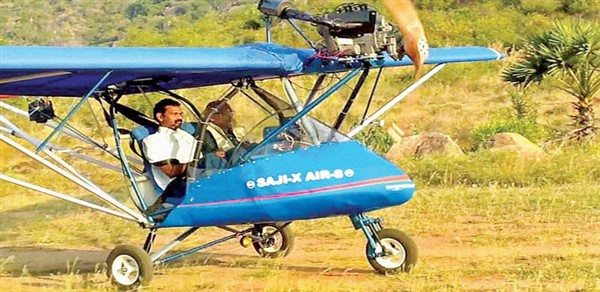 Born in a small village near Idukki in Kerala, Saji Thomas born Hearing and Speech impaired was talented and used to make cardboard models of cars, bus and planes. During his teens he saw helicopters spraying pesticides over the rubber plantations in the vicinity, he was mesmerised with the flying machines and walked to meet the pilots. Though he could not speak, the pilots noticed his interest and gave him a ride in the helicopter.
The ride was a turning point in his life, he took the Mumbai based pilots address and later visited them. Saji stayed with them for 2 weeks and came back with a lot of aviation books gifted by the pilots.
After coming back to his village, Saji started building his aircraft with recycled material. He substituted local material after properly studying the technical specifications. Since he could not afford high-grade fibreglass for the propellers he used locally available Mahogany wood polished to perfection. He used a Yamaha motorcycle engine in his first prototype, though the plane taxied, it did not have the power to take off.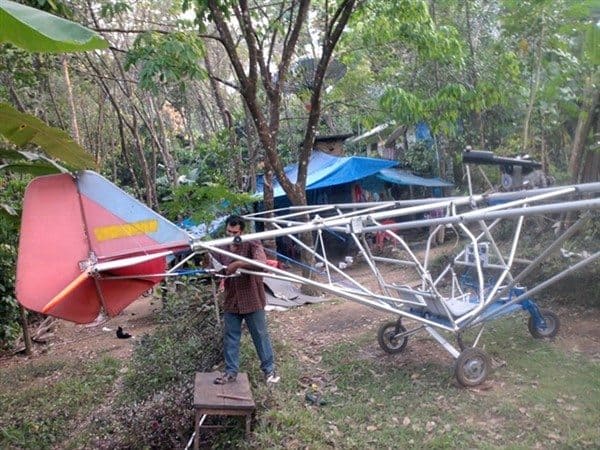 Saji Thomas's Prototype Aircraft
Though his first prototype did not fly, all the same, it was noticed and purchased for 1.5 lakhs by the Visveswaraya Institute of Engineering for teaching the students the basics of aviation. With this 1.5 lakhs, Saji purchased a second-hand 65 HP German engine and other second hand parts for his dream machine. It took him 5 to 6 years to make his aircraft, he named the prototype SAJI-X-Air-S.
X-Air is a Microlight category as defined by the DGCA. Though his aircraft was ready, he could not find a runway or a qualified person to fly it. An X Air aircraft costs anywhere around Rs. 25 lakhs, Saji's made his X Air prototype in Rs.14 lakhs.
Family, the backbone of every Entrepreneur.
Saji, through his wife, contacted retired Air Force Wing Commander SKJ Nair, who had a flying club at Manimuttar in Tamil Nadu, after receiving confirmation, Saji hired a truck and carried his prized possession accompanied by his supporting wife Mariya. As retired Wing Commander Nair sat in the cockpit and started taxing, Marya was more tensed than Saji, it was a moment of joy for all of them as the SAJI-X-Air-S took off flawlessly.
Saji spent all the money he made working as a technician repairing TV sets and other electronic gadgets on his dream project. His wife, Mariya and son Joshua led a meagre existence but were the strength and pillar of support encouraging him to keep working on his dream.
Saji Thomas- An Inspiration
Listin Stephen, a producer of Malayalam movies was inspired by the determination and achievements of Saji and produced a film "Vimaanam" portraying his life story.
A must see for all, please view the trailer below
Saji in the India Book of records.
Saji is listed in the India Book of Records for achieving the feat of the first differently abled person to build an Aircraft. He was also featured on the Discovery Channel,
Saji Thomas had to constantly struggle throughout his life, he was driven by his passion and never once complained or considered his Speech and Hearing Impairment as a disability or an obstacle. Since he does not have the access to funds, he is unable to put his ideas into practices and is hoping for an approval from the Civil Aviation Department.
As per the details with us, he is still unemployed, people willing to help him can SMS him on +91 94003 36313 or call on +91 94467 47473, the call will be taken by his Son Joshua or his wife, his e-mail ID is sajixair@gmail.com
Theertha Nirmal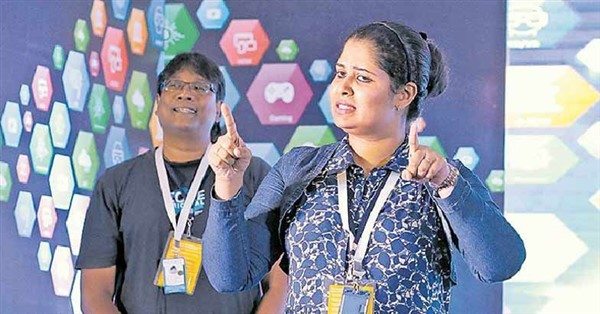 The gutsy lady from Kerala who is Speech and Hearing Impaired from birth is the Founder of a startup aptly named Sign NEXT. Her startup won the third prize at the Huddle Kerala conclave organised by the State Startup mission at Kovalam.
The audience at the conclave roared in appreciation as her name was announced, it took her a few moments to realise that her startup has been declared the third prize winner, she looked towards her husband Sanu and her Co-founder Kingsley David, seeing their smiling faces she knew it was for real. Once again raising the question whether Hearing Loss is a disability? Not really! Not for all.
What is Sign NEXT?
Sign NEXT-SignSkool, is an educational mobile app, this mobile app will have educational videos, vocational courses, live streaming of video recordings in sign language. The App will not only impart academic education but will also ready them for the real-life challenges, Kingsley David, her Co-Founder mentioned that they will be offering tips to the Hearing impaired on how to prepare for interviews, how to write e-mails as well as hygiene and pregnancy tips for the females.
Theertha Nirmal's Mission
Theertha wants to educate and empower the deaf community through the innovative use of Technology. Her immediate target is the 3.5 lakh Hearing impaired in the state of Kerala, she will subsequently reach out to the 1.8 crores Hearing impaired throughout the Country.
Theertha Nirmal – Early Days
Undeterred by her Hearing Loss disability, Theertha attended a Sign language school in her hometown Calicut, she was not really happy as she had to struggle with English words as her teachers were not well versed with the language. After her High School, she joined NISH (National Institute for Speech & Hearing) at Thiruvananthapuram and finished her B.Sc. in Computer Science.
Theertha married Sanu Chukkiri in 2016 and has a 6-month old daughter Eva.
Theertha Nirmal is a role model and will be an inspiration for the Deaf Community not only from Kerala but India and the world.
The Disability Affairs department under the Ministry of Social Justice and Empowerment considers persons with a hearing loss of 60 decibels or above in the better ear as a qualification for benefits and concessions. This rule neglects everyone who is in the Mild and Moderate category. The Government should also form a separate category and offer jobs and facilities to this neglected categories.