Vaishali Sharma is an MBBS from Aligarh Muslim University, you must be wondering why we make a mention of her when we have 50,000 MBBS passing out every year from our Universities.
Vaishali Sharma stands apart from the other as she has attained this distinction though she has 80% deafness.
Vaishali finished her MMBS in 2014 and was interested in pursuing her PG in clinical branches she was not allowed as she would have difficulty in attending to emergency calls and using a stethoscope.
The real fighter that she was, this did not discourage her, she decided to appear for UPSC exams.
She appeared for her UPSC exams in 2015, despite having scored 824 marks and clearing the IAS exam in the second rank holder among the physically disabled category she was not selected as the panel declared her "temporary unfit", she was found overweight. IAS candidates also go through a medical test where the BMI (Body Mass Index) is also checked. Passing her exams was an achievement as she could not attend classes due to her inability to hear, though she was using hearing aids, she used to study all by herself in the AMU (Aligarh Muslim University) library.
She was shocked and heartbroken, this rejection came after having missed the chance for pursuing PG after her MBBS. Most of us would have given up and accept fate but not Vaishali Sharma, Vaishali's father wanted her to approach the courts to get a decision in her favour but Vaishali was made of a different material, she took this as another challenge and was determined to lose weight and reappear the following year.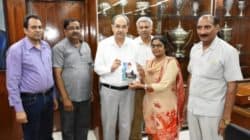 Vaishali appeared again in 2016 and passed with a score of 969, better than her 2015 score of 824 and was the topper in her category. She attended interviews and concentrated on the lip reading and body movement to overcome her disability, she scored 170 marks out of 275 in her interviews.
Vaishali Sharma is currently employed as Junior Resident doctor at a Hospital in Mathura, her journey has been full of struggles, she admits that many a times she felt very low and disheartened at being different but the support of her parents encouraged her to become an achiever. Her father, a banker took early retirement to support his daughter. Vaishali say's she will be forever grateful to her family and whatever she has achieved is all due to her family.
You think Hearing Loss can stop anyone from attaining success? not always! It can open new doors and avenues for you with hard work and determination.